Collections SVS Surround Sound Speaker Systems
Experience the Thrill and Immersion of SVS Home Theater Speaker Systems
SVS surround sound speaker systems set the stage for thrilling and immersive home audio experiences. Available as 5.1 speaker systems, 2.1 stereo with a subwoofer and any configuration you can imagine, there is an SVS surround sound system to fit every room and budget.
All SVS Prime and Ultra series speakers are timbre-matched and voiced to blend seamlessly together. This means you can create your own custom surround sound system with any combination of SVS speakers. Best of all, you'll always enjoy perfectly synchronized surround sound with breathtaking dynamics and pristine clarity.
Try the SVS System Builder Tool
We developed an interactive System Builder tool that lets you customize the best surround sound system for your needs. Choose from pre-existing setups or create the perfect combination and save while doing it!
Customize a 5.1, 7.1, 9.1.4 or other multi-channel home theater surround sound system with your choice of SVS speakers and subwoofers
Add SVS Prime Elevation speakers for Dolby Atmos height effects
Earn a 5% discount on speaker systems with five or more products
Save or share systems for future reference
Start Building My System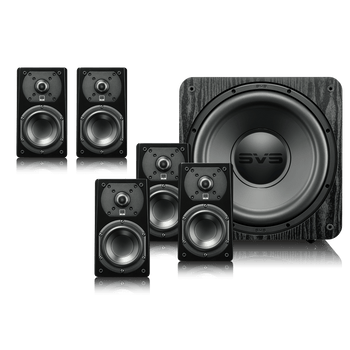 Punching well above its size and weight, the Prime Satellite 5.1 surround sound speaker system delivers pristine clarity, stunning dynamics and head-turning sonic effects with deep and chest-thumpi...
Subwoofer | SB-1000 Pro
Center | Prime Satellite
Surrounds | Prime Satellite x 2
Mains | Prime Satellite x 2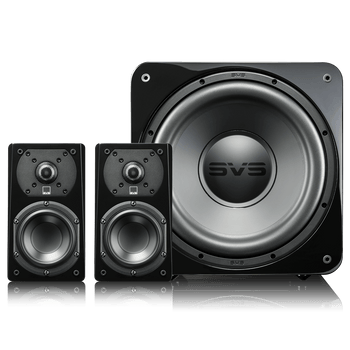 Sonic dynamite in a super compact package, the Prime Satellite 2.1 speaker system delivers deceptively huge, full-range sound with pinpoint accuracy and room-energizing bass from the two versatile ...
Subwoofer | SB-1000 Pro
Center | Not Included
Surrounds | Not Included
Mains | Prime Satellite x 2