Audiophile Refinement, Breathtaking Home Theater Dynamics
SVS speakers balance audiophile refinement and accuracy with stunning, high-impact home theater dynamics to reveal the full depth, detail and emotion of music, movies, TV shows and all audio content. Our speaker design process involves sophisticated prototyping, extensive acoustic simulations, anechoic and real-world testing and the use of premium driver, crossover and cabinet materials. The result, loudspeakers that deliver jaw-droppingly immersive audio experiences and unmatched performance for the price.
With the Prime and Ultra Series Speakers, SVS is bringing world class sound quality to more people than ever before. With both 2-channel stereo and home theater surround sound systems, SVS speakers deliver a truly high-end audio experience with precise imaging, absolute transparency, wide dynamic range, pinpoint accuracy and powerful dynamics. SVS speakers reveal the full sonic impact of what an artist or sound engineer intended with perfect clarity for "like-being-there" audio experiences.
SVS makes a variety of the best home theater speakers to fit every room, audio system and budget. Our SVS Sound Experts are available 7 days-a-week to help you choose the best loudspeakers based on your personal set-up and listening preferences.
SVS President Gary Yacoubian talks about how an idea becomes a speaker, from theoretical design to final voicing and all the steps in between. There might also be a brownie baking analogy.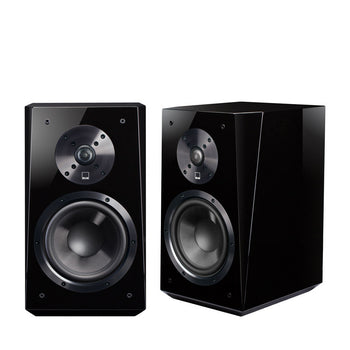 Reference bookshelf speakers with flawless tonal balance, stunning dynamics, unveiled highs and amazing low frequency extension. The Ultra Bookshelf speakers perform in the echelon of the world's f...
Tweeter | 1"
Midrange | N/A
Dimension | 15" (H) 8.5" (W) 10.9" (D)
Freq Response | 45 Hz-32 kHz (±3 dB)
Woofer | 6.5"
The Prime Tower is a reference-grade loudspeaker with pinpoint accuracy, exceptional tonal balance, effortless bass response and all the qualities of the best high-end floorstanding speakers availa...
Tweeter | 1"
Midrange | 4.5"
Dimension | 36.6" (H) 8" (W) 11.6" (D)
Freq Response | 30 Hz-25 kHz (±3 dB)
Woofer | Dual 6.5"